IterateUX is an online community of UX designers spanning all skill levels. Members are sharing and learning together through events with guest speakers, and design exercises.
IterateUX's website is not performing as intended. The stakeholders from IterateUX were looking for a redesign of the website in order to increase the mew member sign-ups. I and 3 designers teamed up as team 
UXtreme
and redesigned the website
in 1 week
. (06/2021)
My Role as the Lead 
UX Researcher and UX Designer
•Gathered requirements and lead the design research; 
•Designed survey questions and evaluate the current website; 
•Synthesize data and converted insights to design decisions;
•Redesigned Event page and subpages individually;
•Planned and conducted usability testing; 
•Iterated the design based on findings and improve the user experience;
•Collaborated with designers within team during the whole process
•Reorganized information architecture of the sites and created a new sitemap.
•Created a design system based on the current branding guidelines
•Redesigned both mobile and web versions with a focus on better communicating the information and getting more sign-ups
•

Won the 1st place in the design marathon!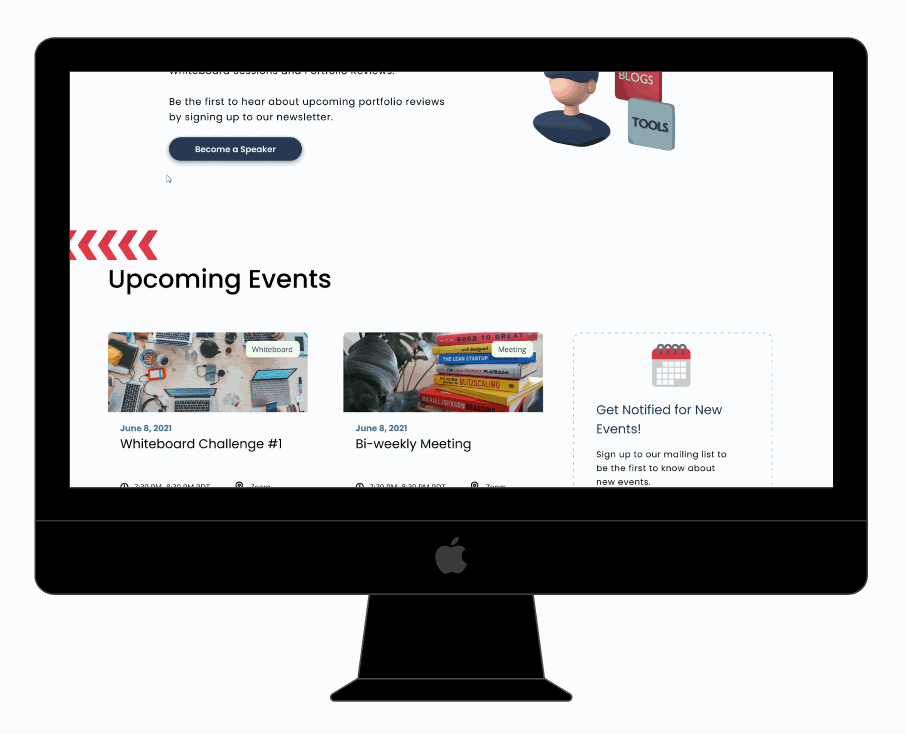 Understanding the Problem
IterateUX is an online community of UX designers spanning all skill levels. Members are sharing and learning together through events with guest speakers, and design exercises.

Currently, there are bi-weekly meeting hosted on Zoom and organized through Meetup. Members also chat about a range of topics on Discord.

The Problem
The website doesn't quite meet
users

needs
- 
• to easily find the information they are looking for and get involved; 
nor
the stakeholders' goals
- 
• to have a increase in membership sign-ups 
•to provide better information & resources for people looking to become a volunteer, speaker at an event, or a company partner
IterateUX provided two personas as the main users they'd like to engage.
•Aspiring UX Designer/Junior Designer
, who'd like to learn UX skills and grow in the career.
•Experienced UX Designer/Mentor
, who'd like to share experience, mentor junior designers and increase own impacts.
Evaluating the current website
​​​​​​​
Internal UX review
We conducted an internal UX review over the current website to spot usability issues.
Survey Design
To validate our hypothesis and prioritize which issue we'd like to focus on first, we decided to create a survey and learn more about the users and their thoughts on the current design. We chose to use survey as research method because time was limited and this allowed us to work on other aspects of the design process while waiting for responses.
IterateUX's website
is not clear in what it offers and how to join
(either as a aspiring UXer or mentor).
How might we 
provide clear guidance
for aspiring UX designers through resigning the IterateUX's website?
Sitemap doesn't provide clear guidance to users
I created a
new sitemap
based on previous findings, discussed in the team and got approved to be used in our redesign.
Iterations on Navigation Bar and Footer
Pain Point 2:
It's hard to find what are the upcoming events and RSVP.
Pain Point 3:
Users found confused about what IterateUX offer and how to get involved. 
Few were aware of the "sign-up to newsletter".
Branding Guideline
IterateUX, our stakeholder, provided us with a branding guideline to follow.
In order to evaluate our redesign, I created a usability testing plan and conducted 2 out of 3 usability testing sessions. 
Online prototype is 
here
.
Our redesign achieved a higher score
 •Learned different approaches and though processes from teammates through collaboration. It was also a great experience to collaborate across time zones.
•How to convert a desktop design to a mobile layout
•A style guide is super beneficial when designing in a team, so our design maintains consistency.
•The Importance of planning and delegation - our team was most effective when everyone had a clear idea of their role and the plan